QuiqLitePro White/Blue LED (10 lumens 3 modes) In Stock
890161000649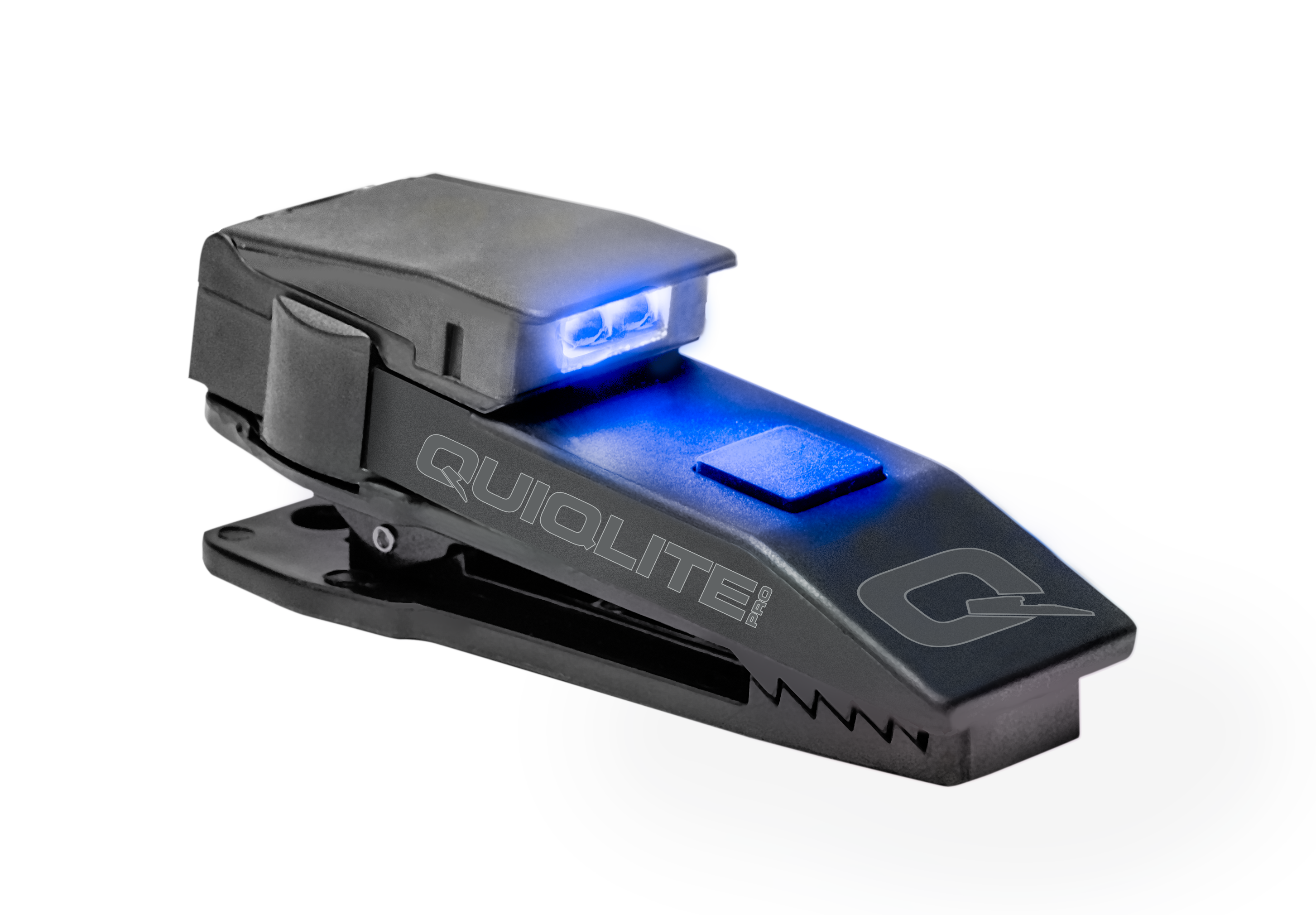 Description:
QuiqLitePro Blue/White LED configuration is designed for tactical and medical applications. The first push of the On/Off button will activate the blue led at 10 lumens to help preserve your night vision for reading and writing while keeping your night vision preserved. The blue led is also used my EMS providers for easy detection of body fluids. Pro offers a ten lumen white LED for normal reading and writing, 10 minute auto-off battery saving timer and continual Safety Strobe for situations when you need to be seen. Pro now includes a QuiqFlare attachment and Pupil Gauge.

Features:

3 modes

Dual LEDs

Independent LED activation

10 lumens

Anti-glare visor

10 minute auto-off timer

160 degree adjustable light arm

360 degree rotating removeable magnetic QuiqClip

Weather resistant nylon housing

Safety Strobe

Non rechargeable batteries included (2) CR2032

QuiqFlare attachment Now Included

New Pupil Gauge

Operation:

1st push activates single blue L.E.D. (10 minute auto-off timer).

2nd push within 2 seconds of 1st push turns off the blue LED


and turns on the white L.E.D. (10 minute auto-off timer).

3rd push turns all L.E.D.s off.

Tactical Mode

If 2nd push is delayed 2 seconds of 1st push, QuiqLiteX will auto shift into

Tactical Mode turning off the blue LED without activating the White LED.
Strobe Function:
Press & hold main power button down for 2 seconds to activate Safety Strobe


(no auto-off timer).

Press button again to turn off strobe.

Specifications:
White LED: 10 Lumens/40 hours
Blue LED: 10 Lumens/40 hours
Strobe: 10 lumens/40 hours
Length: 3 inches
Width: 0.90 inches
Weight w/batteries &Clip: 1.0 oz.
Batteries: Non rechargeable (2) QuiqLiteX lithium CR2032 (included)
Housing: Nylon
Engrave Your QuiqLitePro
No Thank You (0) First Initial Last Name (4.95)