QuiqLiteX UltraViolet/White LED (USB Rechargeable) 380nm 20 up to 75 Lumens
094922007001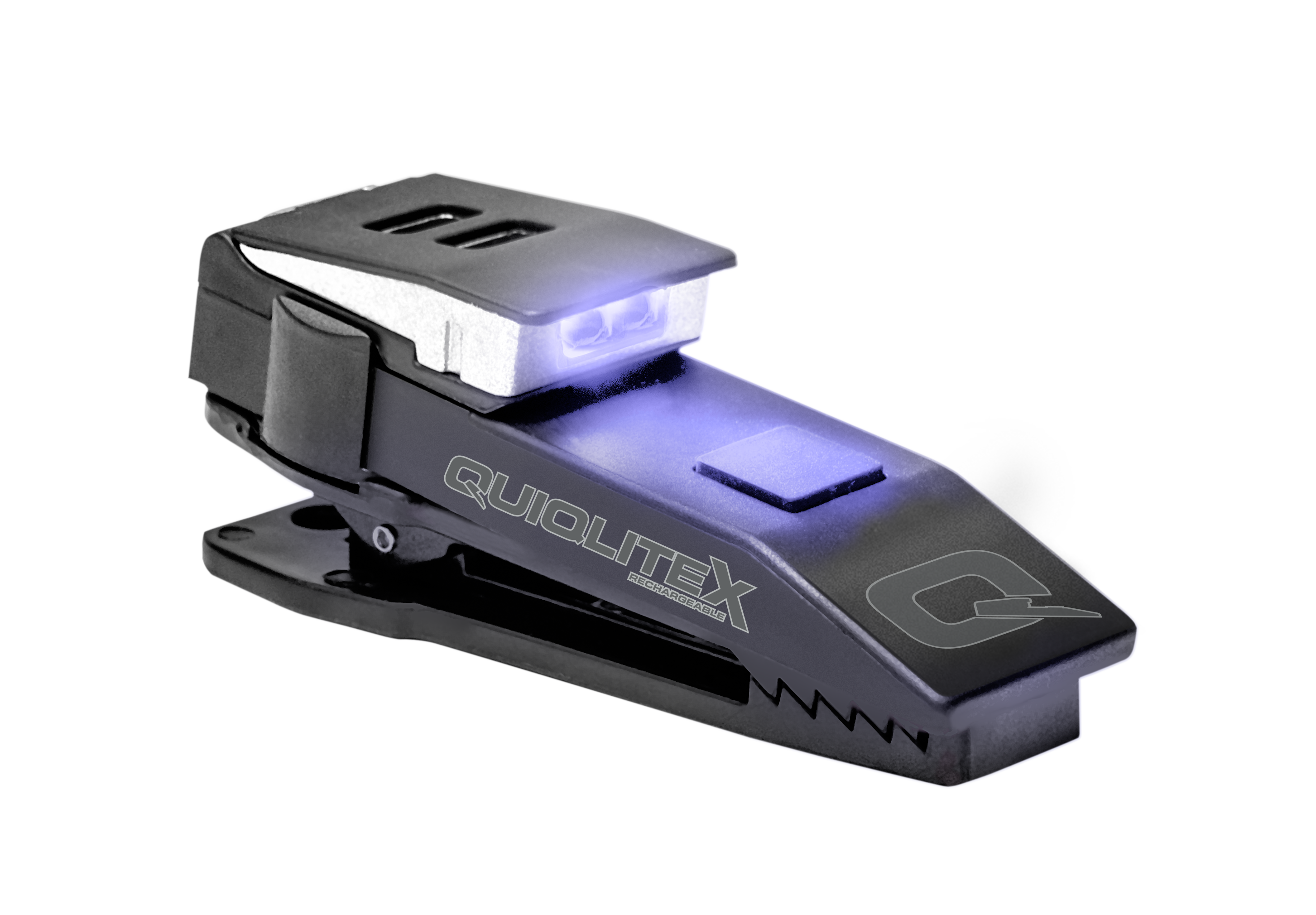 Description:
QuiqLiteX High Power 380nm Ultraviolet LED (USB Rechargeable): authenticates passports, currency, driver licences or any other identifications with Ultra Violet markings without having to hold a flashlight in your hands. The first push of the On/Off button will activate the white LED at 10 lumens, used for normal reading and writing while keeping your night vision preserved. If you require the U.V. L.E.D. simply activate by pushing the On/Off button again within 2 seconds of the 1st push. The white led can boost from 20 lumens up to 75 lumens on demand with the push of the X boost button (located on the top of the product).QuiqLiteX is also equipped with a 10 minute auto-off battery saving timer and continual Safety Strobe for situations when you need to be seen. QuiqLiteX now includes QuiqFlare attachment, making you visible from over 1 mile away and Pupil Gauge.

Features:
High Power Ultra Violet 385nm LED
Super-bright white LED (20 -75 lumens)
USB Rechargeable lithium battery
4 modes
Power boost X button
Dual switch technology
Independent LED activation
Anti-glare visor
10 minute auto-off timer
160 degree adjustable light arm
360 Degree rotating removable magnetic clip
Weather resistant nylon housing
Safety Strobe
QuiqFlare attachment Now Included!
New Pupil Gauge
Operation:
1st push activates single white L.E.D. (10 minute auto-off timer).
2nd push within 2 seconds of 1st push turns off the white LED and turns on
U.V. L.E.D. (10 minute auto-off timer).
3rd push turns all L.E.D.s off.
Tactical Mode:

If 2nd push is delayed past 2 seconds of 1st push, QuiqLiteX will auto shift into
Tactical Mode turning off the white LED without activating the U.V. LED.
X Super Bright Mode:
1st push of X button located on the top of the product will increase brightness from 20 up to 75 lumens per L.E.D (white led only)
2nd push will dim light back down to 20 lumens per L.E.D.
Strobe Function:

Press & hold main power button down for 2 seconds to activate Safety Strobe(no auto off timer)(white LED only)
Press button again to turn off strobe.
Specifications:
High Power Ultra Violet LED: 385 nm/10 hours
High Power White LED: 75 lumens
Low Power white LED: White LED: 20 Lumens/15 hours
Strobe: 75 lumens/5 hours (white led only)
Length: 3 inches
Weight w/batteries &Clip: 1.8 oz.
Width: 0.90 inches
Battery: 1 QuiqLiteX lithium (included) Part#052042
Charge time: 2.5 hours or less
Housing: Nylon/Aluminum
What's in the Kit:
* QuiqLiteX

* removable magnetic QuiqClip

* QuiqFiare attachment

* USB Charging Cord




* User Manual i
Engrave Your QuiqLiteX
No Thank You (0) First Initial Last Name (4.95)